Tour de Bloom Twilight Criterium
Every May, the Tour de Bloom descends on central Washington, just in time for the apple blossoms to reach their full brilliance on the hills above the Columbia River. The height of the action at the three day, four stage race, is the twilight criterium in Downtown Wenatchee, where elite and amateur cyclists battle for position in front of brick facades and a legendary beer garden at the finish line.
As of 2023, the Tour de Bloom stands alone as Washington's only stage race. Racers and spectators came out in force in 2023, helping to ensure that the Tour de Bloom stays on the calendar.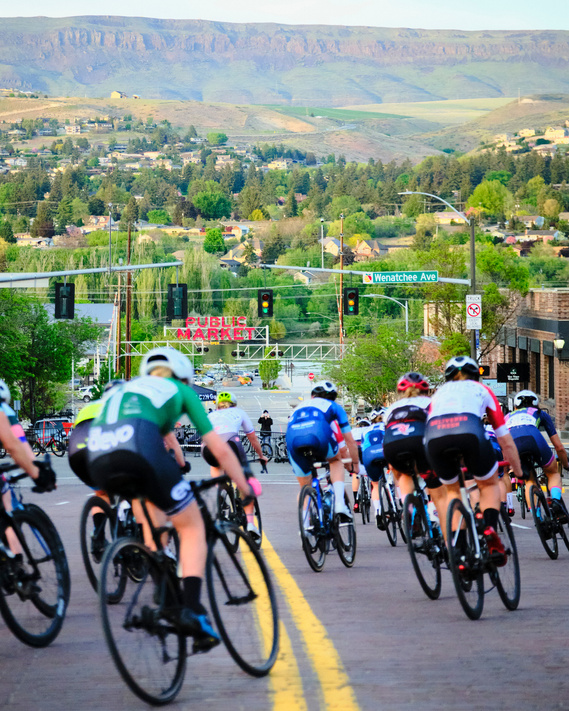 With the Colombia River in the background, The Pro/1/2/3 Women's Field makes the fast, cobbled, and at times treacherous descent down Orondo Ave.
Left: Ben Elumbaugh of Tri-Town Bicycles, the Men's Cat 3 GC leader, celebrates after winning the sprint to the finish at the criterium. Elumbaugh went on to win the GC for the Cat 3 Men's category the next day. Right: Sidney Swierenga of Devo Racing sprints on a prime lap. The Criterium featured both cash and time bonus primes.
The twilight criterium takes place in downtown Wenatchee, set amongst the brick buildings and storefronts of the central Washington town.
Left: Ansel Smolund of Deus Velox celebrates his third place finish in Men's Cat 3 race. Center: Johan Brusa of Premier Racing descends the cobbles of Orondo Ave. Right: The Men's Pro/1/2 race took place almost entirely after the sunset, with the string lights
Spectators filled the beer garden and lined both sides of the street to watch the action. Winners of the race earn a belt buckle and a six pack of the Tour de Bloom Hazy IPA from Wenatchee Valley Brewing.