Davidson Cycles opened its doors nine years ago, after the closure of Elliott Bay Bicycles.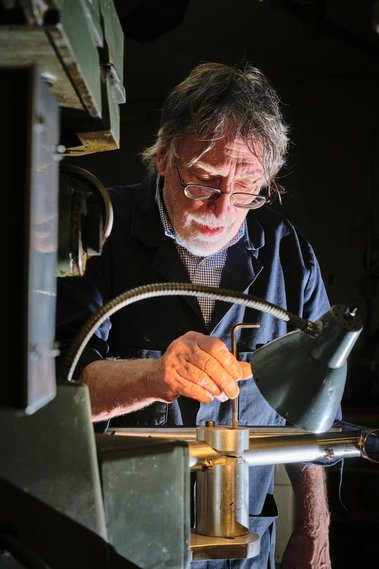 Bill Davidson has been doing this for a while, just don't ask him how long. He began his frame building journey with Elliott Bay Bicycles in 1973, crafting custom bikes out of steel.

In those early years, Davidson remembers building bikes mostly for racers. Now, his bikes are crafted out of titanium, hand cut and welded into the frames that bear his name. And it's not just racers anymore. Davidson builds bikes for all kinds of cyclists.
Custom bicycles aren't much of a rarity these days. In his shop, surrounded by tools and sun-faded posters of the cycling stars of yesteryear, Davidson mused that custom bicycles are a lot like craft beer. Over the years custom bikes have grown in their appeal, with shops sprouting up around the country. Still, builders like Davidson are uncommon.
Davidson's shop is full of specialized tools, bike components, and fading images of famous bike races the world over.
Left: Davidson secures a drill bit that will shave excess metal off of the bottom bracket. Right: Davidson holds titanium shavings that are produced when he cuts and machines each frame with high-precision methods.
Uncompromising in quality, Davidson custom designs every bike for each customer's needs, creating a unique geometry to match the bike's purpose and its rider. From gravel builds to endurance road machines and everything in between, Davidson has probably built it. Recently, he even built a bike to be compatible for an e-bike conversion somewhere down the line.
Davidson Cycles is a local Seattle institution, serving the cycling community for decades and crafting bikes that can last a lifetime. On a beautiful summer day, you can walk from Davidson Cycles to the Burke-Gilman trail, a popular thoroughfare for cyclists, joggers, and those out enjoying the gorgeous Seattle summer. If you spend any time on the trails, you're bound to see a Davidson bike zip by at some point. And if you're under the age of forty, it might even be older than you.
Left: Bill Davidson poses for a portrait in his shop located in the Fremont neighborhood of Seattle. Right: Davidson uses a lathe to shape the headtube of a new titanium frame.
Left: Every frame is crafted by hand, and Davidson inspects each build throughout the process. Right: Drill bits, used for drilling holes for things like mounts, lie on a table with titanium shavings.
Finished bikes come in all shapes, sizes, and colors. According to Davidson, most customers prefer the look of bare titanium, and occasionally they ask for the shops logos to be added to the bike through a process known as anodizing.